Pride month looks a little different this year doesn't it? The murder of George Floyd and the Black Lives Matter protests that have followed have highlighted some truths for our LGBTQ+ community, with one being that in many places, Pride is no longer about the people who started it.
When we think of the work of activists such as Marsha P. Johnson (American gay liberation activist and drag queen) and Silvia Rivera (Latina American gay liberation and transgender rights activist), and their leadership roles in the Stonewall Riots, we realise that our Black LGBTQ+ community was at the very heart of the Gay Liberation Movement, and that the fight they fought paved the way for all of us to have the rights we enjoy today.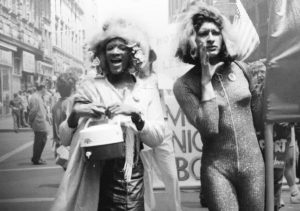 Marsha P Johnson: 'America's first transgender statue' will …Marsha P. Johnson and Sylvia Rivera in 1973
As an out and active member of the LGBTQ+ community, I have realised how important it is that we educate ourselves and speak out on matters such as the Black Lives Matter movement too. It seems beyond hypocritical to enjoy the freedom many of us now have, without giving something back to the people who started it.
In 2018, Stonewall revealed that 51% of BAME LGBTQ+ people reported having experienced racism in the LGBTQ+ community. This number rises to 61% for black LGBTQ+ people. Sadly, when these individuals speak up about their experiences, they say they are often met with doubts, challenges and defensiveness. It cannot always be their responsibility to educate others (including their white LGBTQ+ friends). Therefore, it is important that allies educate themselves, by doing research and listening to BAME LGBTQ+ voices whenever possible. When someone tries to explain why something is racist, it's crucial not to become defensive – it's crucial that we own our mistakes, biases and privileges, and believe someone when they explain how something impacts them.
I am glad to see more research being done into the specific experiences of LGBTQ+ communities, but we can't eradicate anti-LGBTQ+ attitudes in any meaningful way if we don't at the same time work to tackle both the racism and sexism that continues to exist. To make real change for LGBTQ+ women and men, as a community, we need to challenge homophobia, biphobia, transphobia, sexism, and racism all at the same time. It is a big issue, but one that's gaining traction.
As we ALL become more visible, we become more powerful, and this year's Pride is a perfect opportunity to lift the voices of black members of the LGBTQ+ community who are facing subjugation from two sides.
Coming Out at Work
As a white gay woman, I realise that in the grand scheme of things, I am lucky. I was never really in (or felt I needed to be in) the closet. Although they did not play a huge role in my life, I grew up knowing I had two gay uncles, who had been out and proud since they were young. I also had many close, gay friends, and was surrounded by strong gay women at work.
I benefitted hugely from the GLAM (McKinsey's LGBTQ+ network) and had some amazing mentors such as Martin Bratt (now Chief Strategy Officer at the International Rescue Committee) and Pip Kindersley (now an Engagement Manager at McKinsey) at my side to help me through it. I suppose being gay had become somewhat normalised by the environment I found myself in at that time.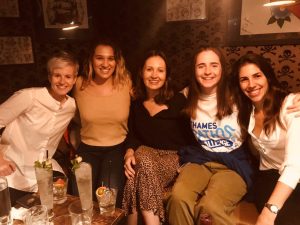 Me with some of my GLAM friends and allies on my last day at McKinsey & Co, 2019
However, I feel it is important to highlight that the struggle doesn't end once you come out, and you certainly don't only "come out" once. I am now only a few years into my story but have already lost count of the times where I feel my gender or sexuality (often the combination together) has held me back in some way. I've lost some friends because of their beliefs and felt more distant from my family members who hold strict religious views. In terms of my career, I've also found finding relatable mentors, sponsors, colleagues and networks much harder, and who knows how many times I've needed to explain that there is no boyfriend or husband at home.
When you look at the data that exists, it becomes clear that I am not alone, and that lesbian women, are having worse and different experiences to their heterosexual counterparts at work.
A 2019 survey by social app HER, for example, found that 92% of queer women reported experiencing 'some' prejudice
A 2018 Pride Matters survey by Pride In London showed that lesbians are two times less likely to be out in the workplace, compared to their gay male colleagues
This year's DIVA media group conducted a far-reaching piece of research that, for the first time, highlighted the unique challenges faced by gay women, showing that over 50% of LGBTQ+ women aren't out at work, 47% have been made to feel uncomfortable because of their gender and 27% have been made to feel uncomfortable because of their sexuality
There is still work to be done, both inside and outside the workplace, but luckily it does feel like there has been progress. Many companies have active LGBTQ+ networks, with senior and exec sponsors advocating change and acceptance where it's needed.
For companies who don't yet have these networks, I would suggest you build them. There are a growing number of industry groups (Intertech, Interbank, LBTQWomen) springing up across the city, and proving to be fantastic ways of growing gay networks inside and outside work, but I don't think anything would have told me I was welcome at McKinsey, more than my GLAM family and allies.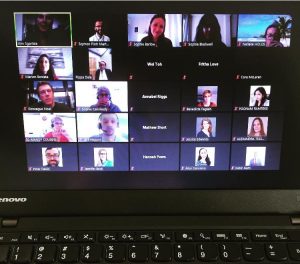 Me moderating a panel discussion for Lesbian Visibility Day, with Pippa Dale, Kim Sgarlata, Marion Bentata and Sophia Blackwell, 2020
For those of you who are allies of the LGBTQ+ communities and are wondering how to help – my answer would be similar to the one I mentioned at the start of this blog around the Black Lives Matter movement.
Listen. Take time to learn from a diverse range of LGBTQ+ voices in and outside your existing circles. Read some literature (The Book of Pride by Mason Funk, Queer Intentions by Amelia Abraham), watch some Netflix documentaries (The Death and Life of Marsha P. Johnson, 2017), and ask yourself and others some questions. When you see a panel event (like the one above we arranged for Lesbian Visibility Day), go out of your way to attend it, and listen in. Listen to the stories these people tell, the challenges they still feel like they face and how they believe these challenges can be dismantled with the help of their allies.
I strongly believe that whether it be homophobia, racism, sexism, or any other form of discrimination, silence enables whilst conversation dismantles. So have a conversation, it might be surprising what you find out.